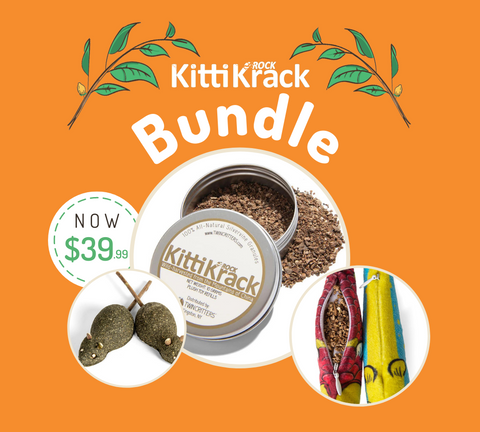 KittiKrack Bundle
$39.99
$49.64
Our new bundle of 100% all-natural silvervine products includes:
KittiKrack Rock: These organic granules are made from silvervine plants wild-harvested from the mountains of Asia. With 2 distinct aromas, this treat is extremely attractive to cats and will have them rolling, licking, rubbing, and vocalizing during their playtime fun!
Silvervine Sardine: Our plush toy sardines have a refillable pouch to put your kitty's favorite silvervine inside. The unique sardine shape is tempting to cats who love to rub, bite and lick their sardines as they enjoy their playtime with silvervine.
Silvervine Mice Lollipops: Each 100% silvervine lollipop is shaped like a mouse to tempt and tease your kitties with hours of playtime fun! A couple of sniffs from your kitty helps soothe them or give them a shot of energy—it all depends on their mood!